I travel a lot for work, mostly in Southern Africa, particularly if there's been a drought or some political problems. This time I was off to Namibia for another trip. When there I usually spend time walking around the city, but this time I decided to take my Brompton folding bike along so I could explore even more.
This meant I had an issue. I wanted to be able to cycle straight from the airport, so I wouldn't need expensive taxis that speed and scare the living daylights out of me, but I also wanted my bicycle to be safe in the hands of the luggage demolition crew. A strong cardboard box would work, but I wouldn't be able to cycle with a box that size, and it would likely get tossed or taken if I tried to leave it near the airport.
So having previously built a battery box for my electric bike out of ABS plastic, I decided this would do the job again.
Here's the box:
Yes the bicycle fits into that, with far too much space to spare actually as I made it too high. It does leave a lot of space for packing other things into the box, but with the 30 liter front bag I didn't need more space, so I just used thick protective foam. I also had a company stitch up a thick nylon cover for it so it looked more like luggage as you'll see later.
The box is held closed by three screws on each side. Not being able to carry a screwdriver on board meant I'd have no way to unscrew it, but fortunately I found a large washer that fit the screws perfectly, and I could carry it in my wallet, just like a coin! When the screws are removed, the box collapses in on itself and I can carry it on the back of my bike with just two luggage straps and one piece of foam, as you can see here at the Windhoek airport: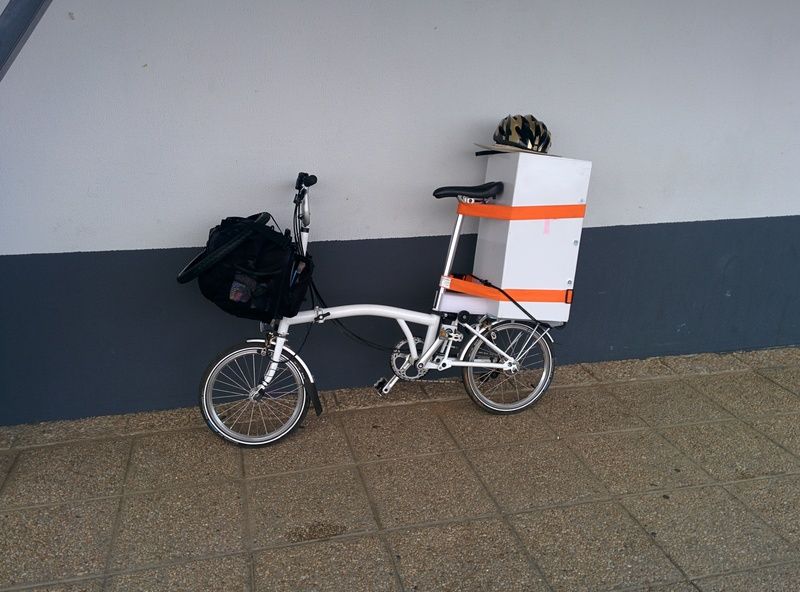 And off I went, Windhoek is to the right:
I'm from South Africa, so I'm used to seeing signs warning about potential buck in the road, but this one was new to me: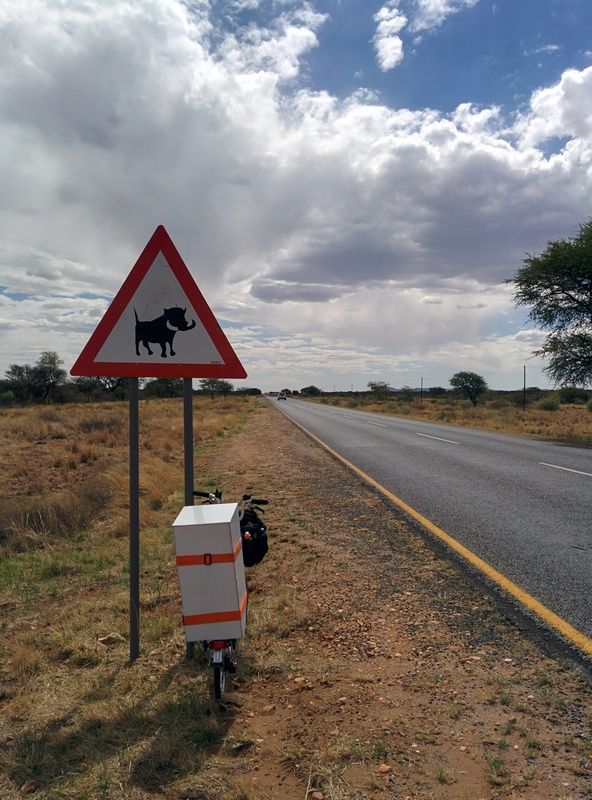 I didn't see Pumba sadly, pity too, I made friends with them a while back in one of the local campsites bordering a park. You probably shouldn't try this at home, I was also the only person to try this at the campsite, couldn't help myself, they are so cute:
Ok back to the bike trip. The roads were in good condition, with no potholes, and quite smooth tarmac, but the lack of an emergency lane was terrible. I had to leave the road twice because of trucks coming too close:
It was really hot too, as you would expect in the desert. Sadly the whole region is struggling with a monstrous drought thanks to El Nino. I never saw a drop of water in any river: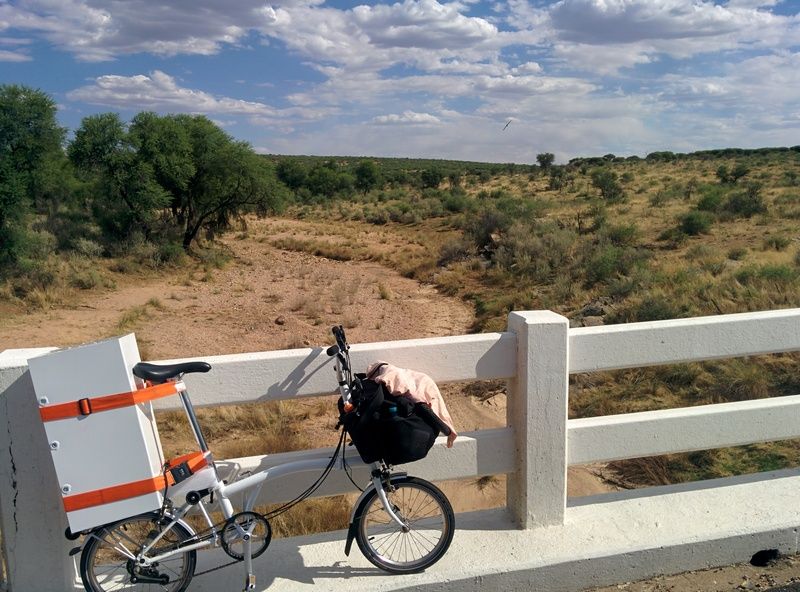 Halfway through my journey I found the first piece of usable shade, the police checkpoint. They were also kind enough to offer their firehose for refilling the bottles, but the bees are also obviously struggling in the drought so they weren't leaving the nozzle edge. Instead I used a small bottle in the bathroom which I'd pour into my larger one, I also poured a little into a hollow on the floor for the bees, they flew straight to it! During the ride I'd drank about 1.5 out of the 3 liters I was carrying in the 22km of the trip so far: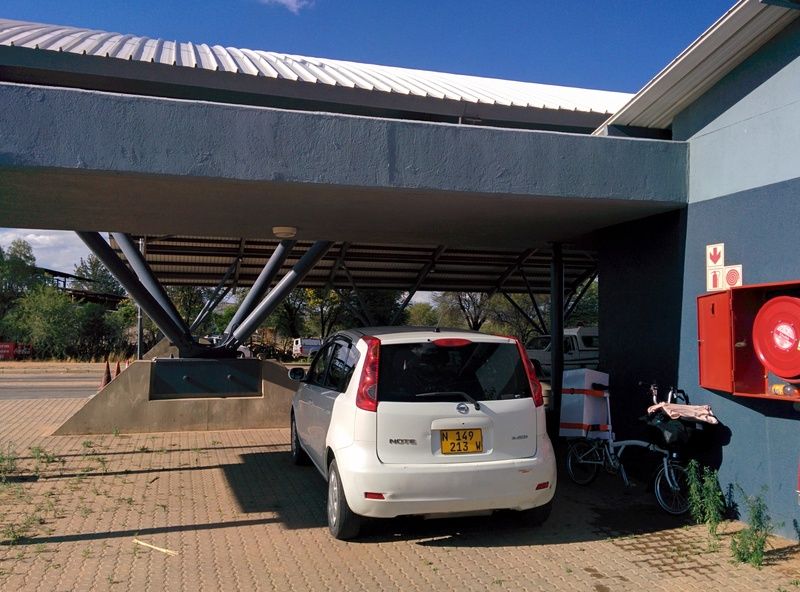 Another dry riverbed, it's a miracle these trees are green:
Another few kilometers further on I found some more shade on a piece of old unused road. I took the opportunity to adjust my gears as the job I did the night before seemed to cause more clicking: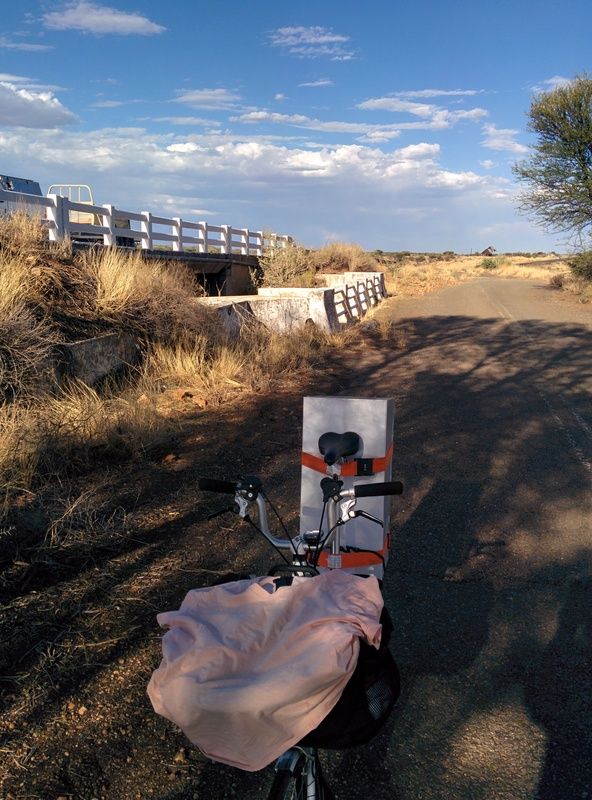 Fortunately I found ways to mount all my tools inside the frame of this amazingly versatile little bike:
The railway crisscrosses the road, sometimes by going underneath it: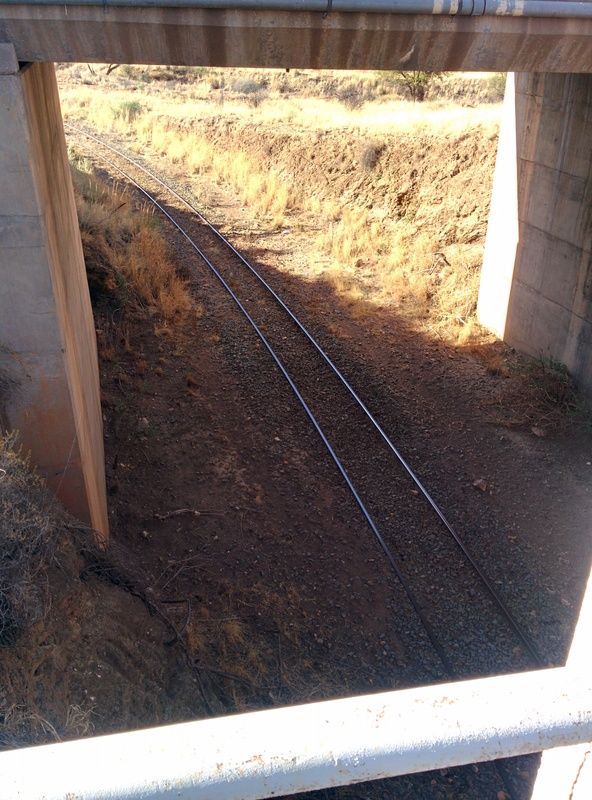 And other times by going above it: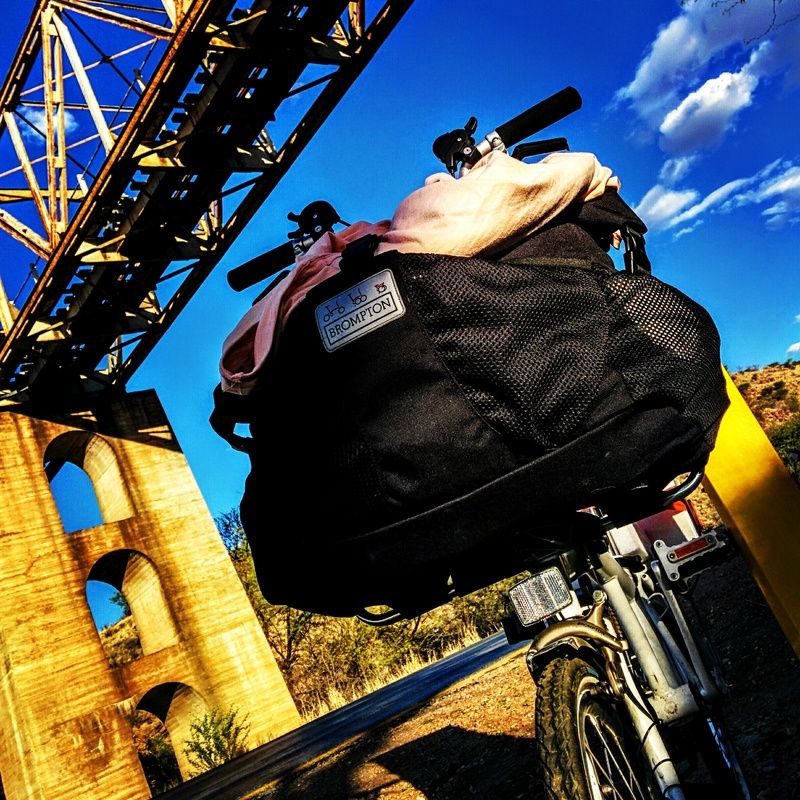 After what seemed like an endless uphill, I finally started finding a few downhills:
After 4 and a half hours I finally made it to my airBNB for the night. The heat was too much for me and I was struggling to cool down. A cold shower followed by me lying on the bed covered in a wet shirt was the solution to that.
Here's the bike, box and gear all happily inside the room with me:
At the end of my trip I packed everything back into the box and got a lift to the airport. I didn't want to cycle there as I'd have no shower on the other end, and would be smelling pretty bad after the cycle